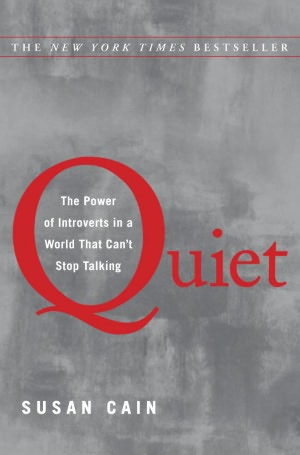 Our culture does not appreciate quiet. We tend to equate social power with social prowess. The outspoken people seen are as the leaders in our culture.
Susan Cain
, however, seeks to dispel this notion that people with a quiet nature cannot be major influencers or leaders. She opens her book
Quiet
by discussing one of the most influential figures in the civil rights movement. Rosa Parks made an impact in the civil rights movement through her quietness. She chose to take a quiet stand instead of being outspoken. In doing so, she became a symbol of strength in the movement. This is the first of many examples of introverts that Cain offers to show the power of quiet in a world that likes to talk.
Quiet is Cain's attempt to prove that, despite America's preference to extroversion, introverts can be extremely successful and influential in our culture. She begins by discussing the "Extroverted Ideal." Since the time that Andrew Carnegie taught us how to win friends and influence people, the ideal personality has be extroverted. In the world of business and leadership, the way to get ahead is to speak up and stand out. Cain visits Harvard Business School to understand how they teach students to succeed in business. It becomes very clear that Harvard teaches their students to speak up or they won't succeed. The issue that Cain finds, however, is that in all their talking, people aren't listening. In this first part of the book, Cain poses the question of whether or not the extroverted ideal is really ideal. What she finds is people being trained to talk the most, whether they are educated or not, in order to get ahead (see my post on
The Introvert in the Boardroom
). Businesses promote group brainstorming which tends to favor the outspoken. Cain instead shows that often people who quietly, by themselves, and are allowed to think through the problems are more productive and effective that people working together in groups where people are fighting for attention. While the outspoken standout, they are not always bringing success and are often times talking over those who can give good ideas.
The next part of here book looks at the biology and psychology behind introversion. Cain seeks to discover if introversion genetic. This section is much different that the first part of the book, but still interesting. I found this section of the book personally interesting because I read through it going, "Oh, That's why I am like that." Introversion and extroversion seems to be built into our brain functions even from birth. It effects the way we think and process information.
The third part of Cain's book compares our culture with Asian cultures to see if the Extroverted ideal is apparent in all cultures. Cain shows that there are major differences between the two cultures. America sees extroversion as ideal, while Asian cultures see introversion as ideal. One of the primary differences is how success is achieved. Introverted cultures tend to succeed through persistence and perseverance, while extroverted cultures succeed but speaking over others and getting your ideas heard. Cain uses this to show the some of the people we see as successful succeeded because of persistence instead of outspokenness.
Last, Cain discusses living as an introvert and with introverts. She applies what she's discussed in previous sections to having relationships, working in an extroverted culture, and raising introverted children. This section is a good balance to the rest of the book which is trying to show that extroversion is not the ideal. Cain reminds her readers that sometimes introverts do need to speak up, but should also not lose the good qualities that introversion brings. She also offers very good practical information on how to live in introvert-extrovert relationships and how to raise introvert children.
Quiet: The Power of Introverts in a World that Can't Stop Talking
is a great book. Susan Cain does a good job of presenting how our culture favors extroversion and looks down on introverts. It may seem at first that Cain is trying to say that introverts are better than extroverts, but reading through the whole work she does a wonderful job of challenging introverts to grow in certain areas. She also challenges extroverts to consider the benefits that introverts are able bring. As an introvert myself I most appreciated the second and fourth sections of the book. I was very interested to learn about myself and why I am the way I am. The second section does a good job of explaining many the biological factors of introversion and extroversion. The fourth section is very helpful because of the helpful advice for living with extroverts and raising and teaching introverted children.
I would recommend this book to just about anyone. If you are an introverted, you will find this book very helpful and encouraging. If you are an extrovert, you can learn why your introverted friends are the way they are and how to best interact with them. I would highly recommend this book to anyone in a business situation, this book can be really helpful in learning how to get the most out of the introverts in your office. I would also recommend it to my friends in the ministry along with
Adam S. McHugh's
book
Introverts in the Church
. I hope that Cain's book will help people change their understanding of introversion. Introversion is not a weakness. There may be areas where introverts are weak, but there are always areas where introverts tend to be stronger than extroverts.
Disclosure of Material Connection:
I received this book for free from WaterBrook Multnomah Publishing Group for this review.
I was not required to write a positive review. The opinions I have expressed are my own. I am disclosing this in accordance with the
Federal Trade Commission's 16 CFR, Part 255
: "Guides Concerning the Use of Endorsements and Testimonials in Advertising."